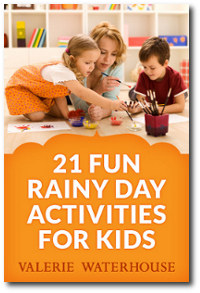 I never thought the day would come but after locking myself away for a while to do a bit of brain storming, I came up with an ebook full of fun, exciting and simple activities and games that I have done time after time throughout my years in childcare.
This book is aimed at both parents and children who are stuck for creative art and games ideas for those rainy inside days.
I have chosen these activities and games as these are a mix of favorites amongst my charges for whom this book was written. And for those parents and childminders who have asked for advice when it comes to entertaining their children indoors when it's raining.
Click here to get 21 Fun Rainy Day Activities For Kids from Amazon
Let me know what you think by leaving a review?
I hope you love products I recommend on my site as much as I do. But just so you know, my site may receive a small share of the purchase price if you buy as a result of following a link on this page.
P.S. Did you know you don't need a Kindle Reader to read Kindle books from Amazon? You can get a reader program for your laptop, tablet or even your smartphone (just go here on Amazon). So everyone can read my book :-).